From the age of seven, I can remember a distinct love for the materials of art. From eight, Mozart, Bach and Beethoven filled years at the piano. Born in Buffalo, NY, the Albright-Knox Art Gallery created a memory bank with images of color and light. Even if the daily light in that northern city could be thin, it occurred to me that art could create new realities. I found ways to make my thoughts tangible with paper and paint.
After completing a BS in Art Education, I taught Art and Art History for several years. Then, a life of travel began. Fifteen years in Africa, Asia and South America opened my eyes to a new kind of light found in magenta Zululand sunsets, ocher-lit Bangkok markets and mossy green South American mountains.
Traveling the world with my husband, an international businessman and bringing up a family was an adventure and there was always a studio to set up, a school in which to teach and a place to exhibit my work.
Returning to the US, I taught AP Studio Art and AP Art History in an excellent high school, while completing an M. Litt with concentration in Art History. In the course "New York Semester in Contemporary Art", there were weekly trips into that city to critique gallery exhibitions and meet artists in their studios. My thesis , "Archaic Symbols: A Touchstone to Modernism for Klimt and Freud" also included an exhibition in which I used gold leafed embellishments in twenty paintings, and moved from "outer space to inner space" of the mind. Trips to Vienna and Hampstead Heath had created a new mindset.
Moving to Philadelphia, I decided to make art full time, acquiring an etching press for my studio in an old mill building. Ideas gained from a Jungian discussion group, expanded ways that the "Collective Unconscious" could work its way into art.
Then came a move to the Washington, DC area, where I joined Washington Printmakers Gallery and also studied under many gifted printmakers in the US and in Italy.
A recent four year stint in Shanghai brought more sights to dazzle the eye, and the opportunity to meet and work with Chinese printmakers and ink painters. My repertoire was growing.
My methods of choice are Intaglio, both acid etched and Solarplate, which is a non-toxic method using the sun to expose a plate and water to develop it. Carborundum Intaglio makes use of coated card in which to incise lines, and coatings of various concentrations of grit to create tone. Lithograph is another favorite, using paper and gum arabic, while Monoprint satisfies my love for painting. Direct brush and roller work on Plexiglas plates are printed to produce a unique print. Relief prints from wood or linoleum may be overprinted to create layers of images, similar to those which happen in the mind.
It always amazes me to realize that the constant desire to make art results in new realities, which hadn't lived before they were pressed down from plates onto fluffy handmade paper. Sometimes these images go into Artist's Books, which tell a unique story in three dimensions.
Printmakers are said to be the most generous of artists, and are quick to share a method. I love the mechanical and chemical surprises which printmaking brings to a work of art. But, there has to be heart along with the ability to lose oneself.
"Art enables us to find ourselves and lose ourselves at the same time."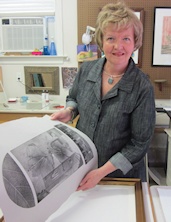 © 2019 Rosemary Cooley Art